Massachusetts Beginning Inventory
Beginning Inventory Guidelines for Massachusetts
This document is intended to guide you through the process of tagging and reporting your beginning inventory in Metrc. This reference is designed as a step by step tool, but the information may be used in conjunction with your own business processes. The external transfer steps herein are only to be used for bringing in your beginning inventory and are not the same steps you will take to track your inventory in the system.
Ordering Tags
After being credentialed into Metrc, the first thing you should do is order RFID tags. Tags are printed in Florida and shipped via UPS with a standard shipping time of 5-7 days. Please keep this in mind as you are required to have a sufficient stock of tags on hand and need them to enter your beginning inventory. To order tags, log into your Metrc account and click Tag Orders under the Admin tab.
Figure 1: Ordering Tags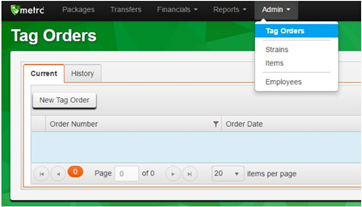 Once your tags arrive, navigate back into the Tag Orders area to select the "Receive" button to the far right to populate your tags in the system. This button will only appear once your order has shipped. DO NOT receive your tags digitally before they physically arrive.
Figure 2: Receiving a Tag Order

Setting Up Items
Before tags arrive, you should set up items in your account. This is a necessary first step prior to bringing your beginning inventory into the system.
There is a two-step process for creating items. Each of these areas of Metrc is accessible via the Admin tab as seen in Figure 3.
For strain-specific usable marijuana (buds and shake/trim), you must first create the strain in your Metrc account. You may estimate the potency and indica/sativa genetics and edit the strain later once you have verified the information with lab testing. 
Figure 3: Admin Navigation (Strains)

Figure 4: Creating Strains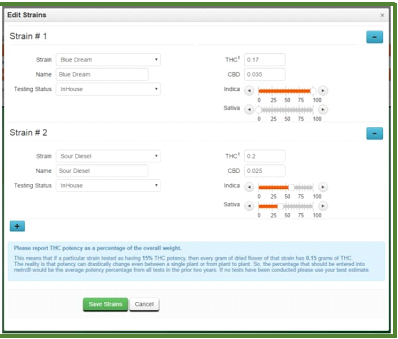 After strains have been created, you can create individual items with a name, category of product, and a default unit of measure. Depending on the category of the item selected from the statepopulated dropdown menu, you may also be required to populate the strain from the dropdown menu containing the strains you created in Step 1 (detailed above). Certain categories also require a weight per unit. The item name should describe the product that will be packaged and ultimately sold. In the example below, Buds – Blue Dream is used to describe the product that will be packaged with this item name, identifying both the category and strain. For infused items such as edibles, example item names are: Fudge Brownies 5pk, Gummy Bears 15pk, etc. 
Figure 5: Creating Items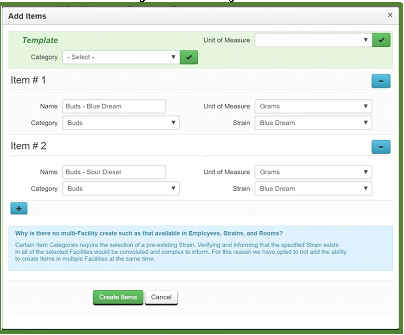 Creating and Tagging Packages 
Once your tags have arrived and you've set up items in your Metrc account, you can create and tag your beginning inventory packages. This is also a two-step process by which you will create and then complete an External Transfer. Incoming External Transfers are a feature in Metrc allowing licensees to receive product from outside of the system to account for your initial inventory. This feature should only be used for approved purposes. When creating your approved start-up inventory, you are essentially transferring possession of items from your entity registered with DPH to your entity licensed with the CCC. This transfer of possession is documented as a new Incoming External Transfer under your CCC Adult-Use license. The two-step process is as follows:
Figure 6: Navigating to Incoming External Transfers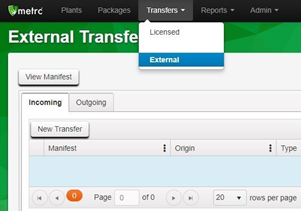 Step 1: Create the incoming external transfer by clicking the "New Transfer" button once you've selected "External" under the Transfers tab on the navigation bar. This will bring up a screen where you will enter the required information to begin the process of creating your start-up inventory. You should complete the fields as follows:
Type: Select the RMD transfer option from the dropdown menu.
Phone Number: Enter a valid phone number for the affiliated RMD from which the inventory is being transferred.
Planned Route: Denote that this is a transfer from an RMD to its affiliated Adult-Use license.
Item Name, Quantity, and Packaged Date: These fields correspond to the specific items and quantities being transferred. The date packaged should be the day that you are entering the items into Metrc. The quantities should be exact and should account only for the product you intend to bring into your AdultUse license.
Figure 7: Creating the Incoming External Transfer Manifest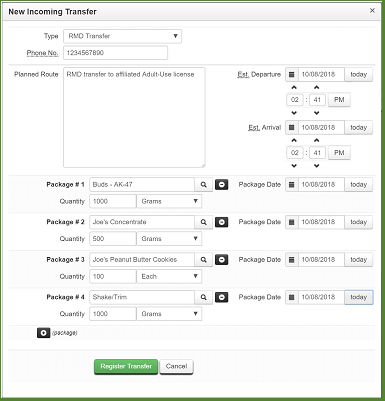 Note: Clicking "Register Transfer" does not create tagged packages in your inventory; you must complete Step 2 (below) to complete the beginning inventory process.
Step 2: Complete the incoming external transfer and create tagged
Step 1 above creates a pending incoming transfer as shown on the following page; it does not associate RFID tags with those items. Without completing the transfer, you will have no inventory and will not be in compliance with the CCC's inventory reconciliation requirements. To create tagged packages, you must complete the pending incoming transfer by clicking the "Complete" button to the far right and then entering the required information. The quantities entered in Step 1 will be auto-populated; you should confirm the accuracy of the quantities and assign a unique RFID tag to each item. You must have physically and digitally received your initial tag order to complete this step. The tag assigned to the product in the system should be physically affixed to the associated product. Once the information is accurate and complete, clicking the "Complete Transfer" button will create the packages with the specified quantities in your inventory.
Figure 8: Pending Incoming External Transfer

Creating Plantings from Packages
After completing the Incoming External Transfer (as described on the previous page) the packages of seeds, plants, and usable marijuana will appear in your inventory in the Active section under the Packages tab on the navigation bar. For those seeds and plants that are intended for cultivation, you will now need to transition the plants into the Plants functionality. 
Because these plants came off the External Transfer in packages, you will need to Create Plantings from each package to move the product into the Plants functionality. All plants regardless of phase will enter the Plants functionality as an Immature planting. The vegetative and flowering plants will then be promptly transitioned out of the immature phase and into their respective phases for accurate inventory tracking. Once the associated package is empty, you will finish it in the system.
Figure 9: Create Planting from a Package

Figure 10: Create Plantings Dialogue Box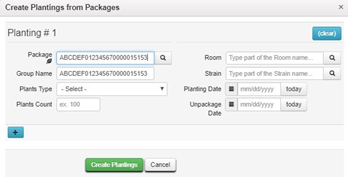 For batches of Vegetative or Flowering plants, you will select the "Change Growth Phase" button and fill out the information in the dialogue box to transition those plants to the correct phase. 
Figure 11: Change Growth Phase

Figure 12: Changing Growth Phase Dialogue Box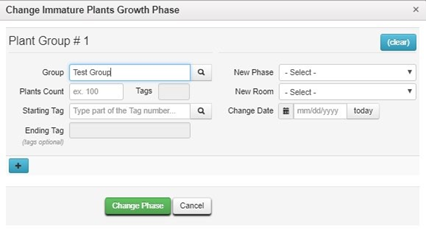 Additional Packages Information
A package is any amount of marijuana that may be sold, processed or transferred and must be placed into one or more containers, each container having a unique Metrc tag.
Your beginning inventory packages will be transferred in from your RMD inventory using the External Transfer functionality as detailed previously. This will require you to create an itemized manifest of all product being brought into your adult-use license. Once your beginning inventory is in Metrc, all new packages must have a source (either a Harvest or an existing Package) identified within the system.
Items must already have been entered under the Admin functionality on the navigation bar for selection when creating a new package. Use today's date (the date of data entry) for the "Package Date".
Figure 13: Creating a Package from a Harvest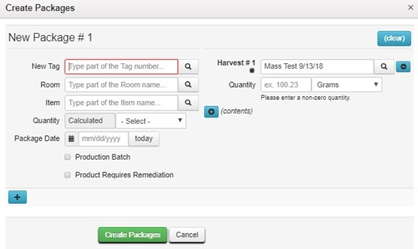 Figure 14: Creating a Package from an Existing Package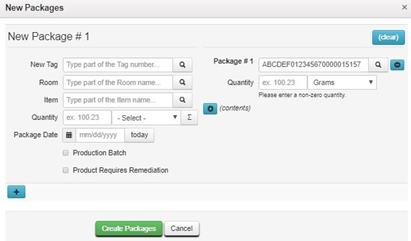 You will create Transfer Manifests to move packages of product to other licensed establishments in the system using the licensed option under the Transfers tab on the navigation bar. Packages of raw product (bud or shake/trim) are limited to 10lbs for transfer purposes.
Please take Metrc training to ensure you are properly tracking your product in the system. Please carefully read the rules and regulations to ensure you are testing your product when and as required.
Please reach out to the Metrc Support Team at [email protected] or 1-877-566-6506 with any questions or for additional guidance.
---
---