Help and Support (Metrc Manual)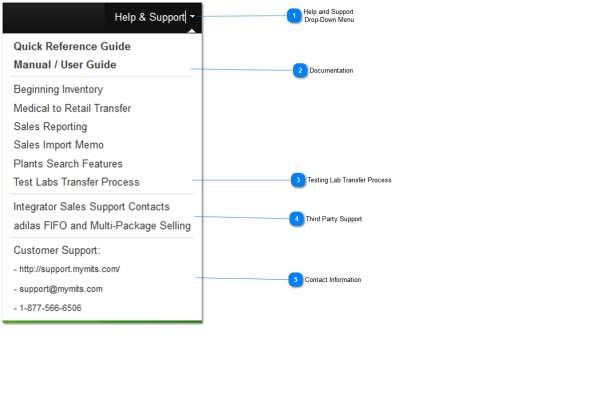 Help and Support Drop-Down Menu. The Help and Support Menu provides all of the information about how to contact Franwell and the Support Functions along with all of the available materials. This menu is constantly updated with new information so please refer to it often with any questions you may have.
Documentation. The Help and Support Menu shows a list of all available materials including updates, manuals, and support information that can be downloaded for Metrc users.
Testing Lab Transfer Process. Testing Lab Transfer Process Booklet on how the testing process works in Metrc. This booklet shows you how to create a testing package properly, how to transfer it to the testing facility as well as how the test results are entered and viewed.
Third Party Support. Some third party companies provide updates to Metrc so please refer to this area for a list of contacts.
Conatact Information. The customer support area shows how to contact the support desk including phone and e-mail support.
To Contact Franwell directly for support:
E-mail: [email protected]
Metrc support line - 877-566-6506 - 8:00am to 7:00pm Mountain Time
---
---